Investing made carefree
Maison Management takes care of your homes and your tenants. Whether it concerns a house, a shop or a business portfolio, you want to make sure that you have a satisfied tenant. After all, a pleasant experience with tenancy starts with good communication regarding the maintenance and solid agreements between all parties.
Your entire portfolio will be managed by a permanent account manager. Maison Management will take the administrative-financial and technical management off your hands, and we will be able to account for it fiscally. In addition, we are independent and not tied to an internal maintenance team, so that we can always work with the right price/quality ratio for the job at hand.
Snel antwoord op uw vraag?
We deal with all aspects of residential property rental and property management on a daily basis and have answered many questions and solved many problems for our tenants over time. Below you will find the answers to our frequently asked questions. Does this not answer your question? Please contact us via the contact form.
All the information at the push of a button
We maintain a transparent working method. You can log in to your online portal at any time and consult all data and the status of your rented properties. You will find all documentation and agreements made for your properties here. This includes, for example, the tenancy agreement, pending payments, tenants' details and the most recent payments. Via the portal, both you and the tenant can keep an eye on all the work we do. If there are any payment delays, you can also see what steps we are taking and when the payment due has been fulfilled.
Renting out new development real estate
Are you looking to allocate new tenants quickly and efficiently? Maison Management has the solution for you. Often times we see that properties remain vacant when several properties are offered at the same time. Our speciality is to use a strictly timed campaign in order to quickly find new and suitable tenants. We take stock of the number of properties, carry out market research and advise you on the right rental price. We record the entire process in advance so that the process can take place digitally. Tenants provide the necessary documentation online, we screen all documents, the tenants sign the lease and you receive the first payment and start-inspection of the property in your portal.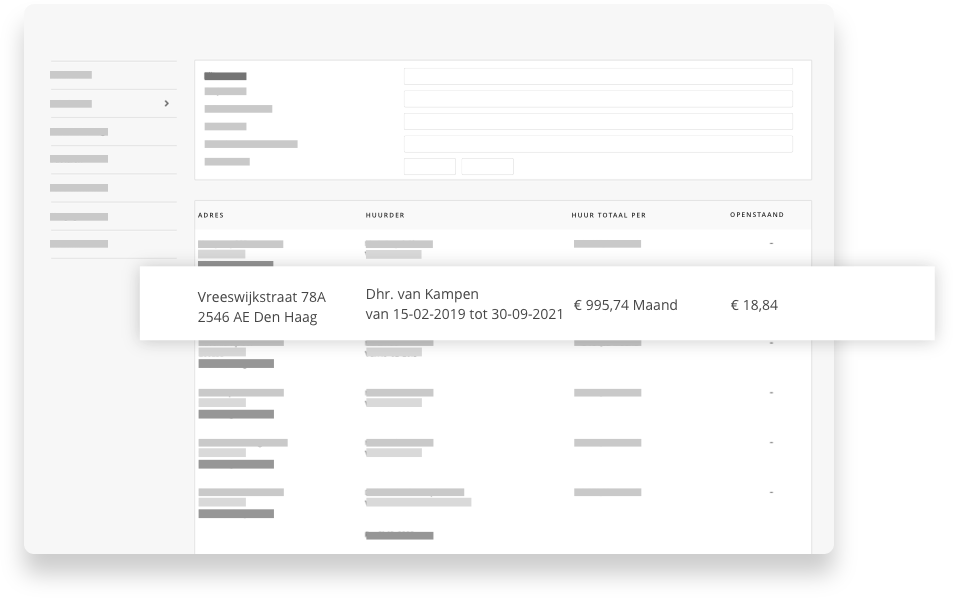 Your investment portfolio fully managed
Maison Management makes investing in real estate simple and enjoyable. Whether you have a large portfolio or own a few properties, our working method suits every type of investor. Get to know our services through our brochure, which describes our services in detail. We invite you to discuss the possibilities without any obligation over a good cup of coffee.