Do you have a question or wish to report a defect?
Welcome to the page for tenants of Maison Management. We are the manager of the property you rented. Do you have any questions regarding the rented property or would you like to submit a repair request? Our online portal is available 24/7 to answer any of your questions. Should you wish to speak to one of our colleagues, we will of course be happy to help you. On working days you can reach our office from 09:00 to 12:00 or via info@maisonmanagement.nl.
Our online tenants portal
We aim to streamline the communication between tenant and landlord and work as transparent as possible. To start with, you can review all the available information on the property in our online portal. All documentation of the property and the agreements made can be found in the tenant portal as well. The tenancy agreement, rental invoices, manuals and other items are stored here. This way you always have all the information closely at hand. Have you not yet received a unique code to login yet? Request one by emailing our office.
Reporting a malfunction or complaint? Step by step
1. Check whether your request for repair falls under minor or major maintenance using the list 'Minor maintenance from A to Z. To be downloaded from...
2. Report your malfunction or complaint via your online portal. To speed up the repair request, please describe it as clearly as possible with additional pictures.
3. After submitting the request, you will receive a confirmation email. We will assign the correct service party to your request.
4. The technical party will contact you within 48 hours and will schedule an appointment to carry out the repair or maintenance.
5. We strive to fully resolve your repair request within two weeks. Still not solved after that? Then please contact us again.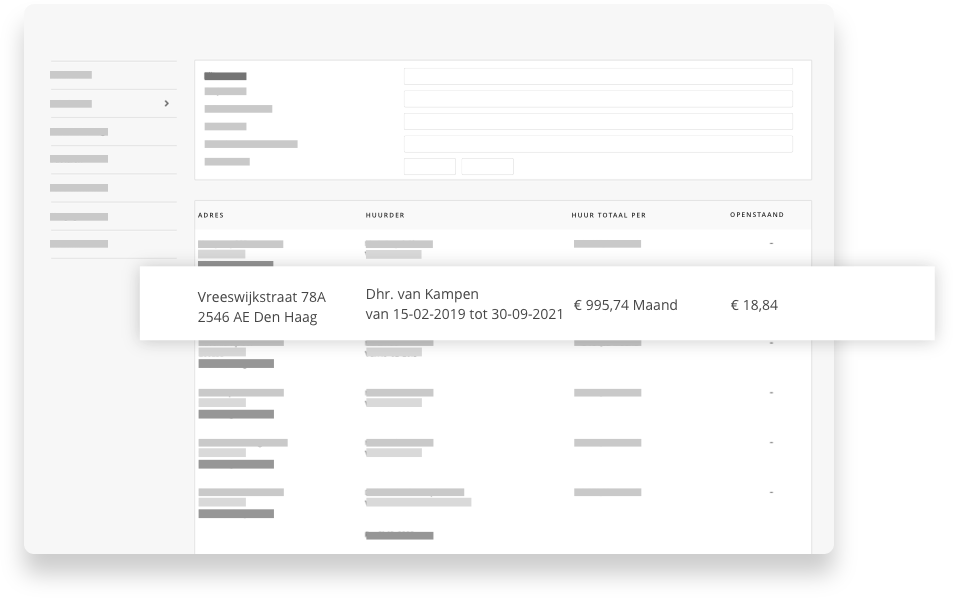 Rent payments
The rent must always be paid to the specified IBAN account number before the first day of the month. If you have not paid the rent by this date, you will receive an email and text message. If payment and/or a response has not been received by our office, we will add the costs of the reminder to the outstanding amount. These costs will then be for your account. Therefore, if we do not collect the money automatically, please make sure that you put a planned payment in your bank, stating the debtor number. Are you unable to pay the rent? Make sure you contact us before the payment deadline expires. This way we can look for a suitable solution in time.
Frequently asked questions
We deal with all aspects of residential property rental and property management on a daily basis and have answered many questions and solved many problems for our tenants over time. Below you will find the answers to our frequently asked questions. Does this not answer your question? Please contact us via the contact form.
About Maison Management
The team at Maison Management consists of a committed group of young and ambitious professionals who are ready to be of service to our tenants and clients every day. They ensure that each real estate investor receives a customised solution and that all communication with other parties is smooth and streamlined. Our online portal is available 24/7 to answer your questions. Should you wish to speak to one of our colleagues, we are of course at your service.